Minority Reportz, we are the best and most diverse f****** Stand-Up Comedy Show in the country!
"With Minority Reportz, Shaikh hopes to give these up-and-coming comedians one of these alternate spaces."- LA Times
Minority Reportz, created by stand-up comedian and producer Mona Shaikh, is committed to bringing a diverse AF line-up to major comedy clubs and has featured such comedians as Margaret Cho, Nikki Glaser, Tiffany Haddish, Trae Crowder, Raj Sharma, Finesse Mitchell, Iliza Schlesinger, Mike Yard, Dustin Ybarra. Minority Reportz is proud to announce that it has showcased well over 450 diverse comedians since it's inception and continues to rapidly grow due to the growing demand of diverse content.
LA Times says "There was so much howling, it sounded like a Magic Show" and Spectrum News LA calls us "groundbreaking". Minority Reportz has also been featured on Spectrum One LA, Forbes, MSNBC, SiriusXM, IHeartRadio, Kirn Radio, India Abroad, Getty Images, Middle Eastern Broadcasting Networks and Hustler Magazine. Larry Flynt was a huge fan of us when we are fully clothed.
Minority Reportz is a brainchild of Mona Shaikh, a comedian, and producer, who didn't see people like herself represented on stage so she approached The World Famous Comedy Store September 2015 with the idea for a show that showcases minorities like herself and others. She believes minority voices matter and saw the importance of the role these voices play in our society and the upcoming trend that was about to take Hollywood by storm.
The launch of Minority Reportz Girls Night Out series in 2019 has brought sold-out shows. Minority Reportz also launched GAY AF Comedy Show with a new residency in West Hollywood in June 2019 showcasing all LGBTQIA comedians. It was important for Mona, as a straight Muslim comedian, to be an ally and dedicate a show to the cause. The shows can also be seen at two more residencies, Caspian Restaurant in Irvine and The Cutting Room in New York City. Minority Reportz Desi Girls Night Out made history at the NY Comedy Festival Nov. 2021 with sold out shows and by being the first show of its kind with an all South Asian and Middle Eastern female comedian lineup.
Minority Reportz inspires to be a household name worldwide. Minority Reportz wants to be the Beyonce of Comedy Shows.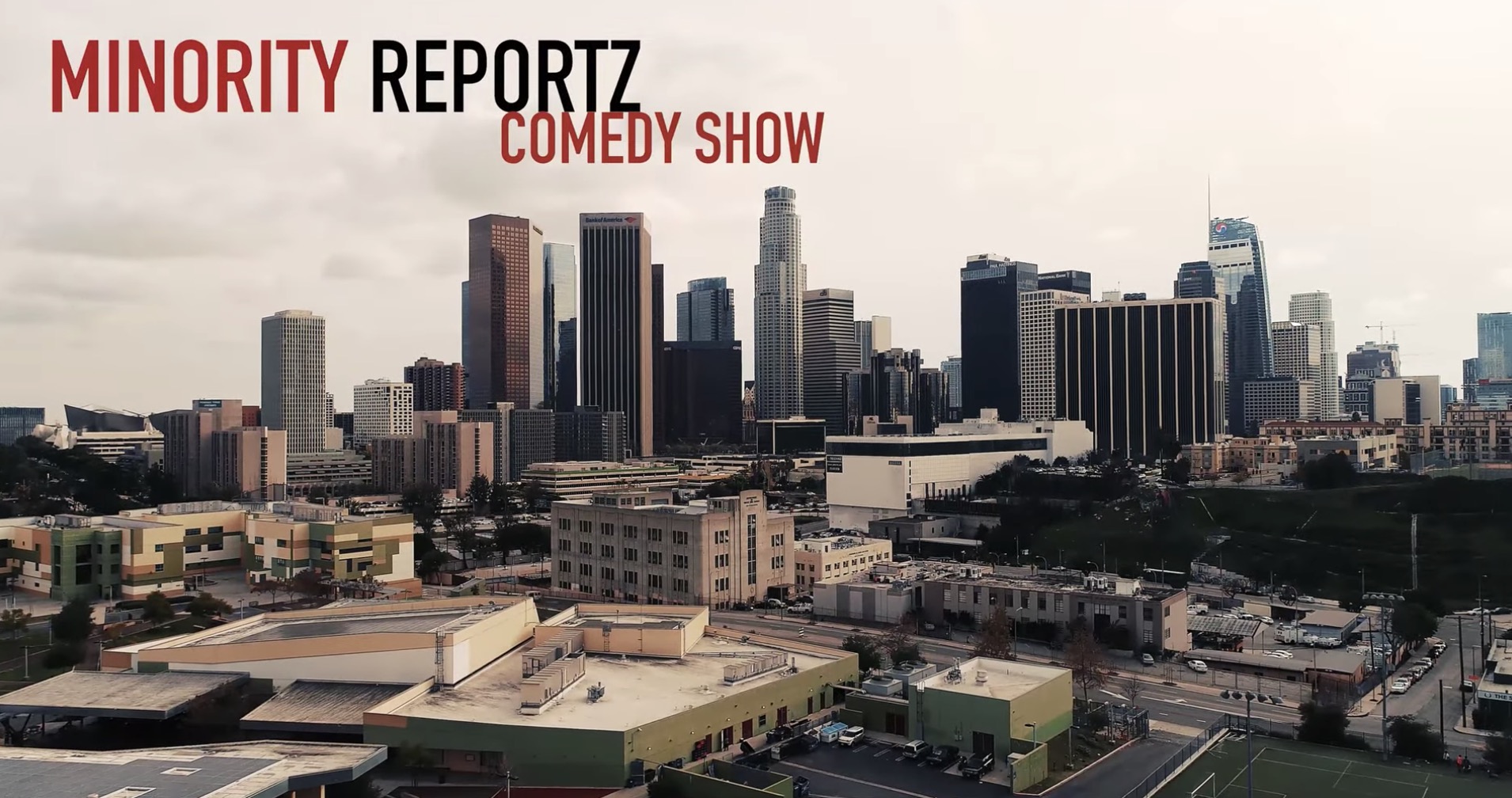 Monthly
Weekly
Daily
List
Events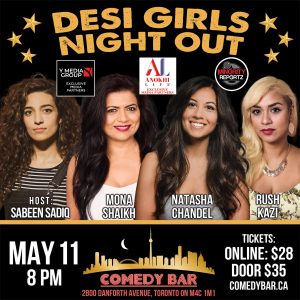 May 11, 2023
8:00 pm - 9:15 pm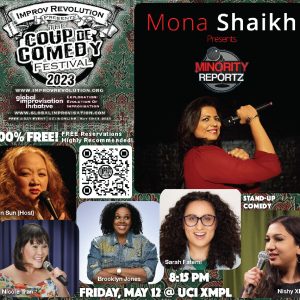 May 12, 2023
8:15 pm - 9:15 pm
University of California Irvine
MINORITY REPORTZ
GET YOUR A** TO ONE OF OUR SHOWS
OUR NEXT SHOW!!!
MINORITY
REPORTZ
Check out these upcoming events and laugh your a** off with us!
MONA SHAIKH
Creator and Producer of Minority Reportz
"she's created a singular niche — and a hilarious one at that" – LA Weekly
Mona Shaikh is a stand-up comedian, host, emcee and producer of Minority Reportz. She most recently emcee'd the Women's March in SF in Jan 2019 and made history by being the first South Asian/Middle Eastern Female Comedian to perform in front of over 50,000 people! She's been featured in LA Times, Newsweek, The Guardian, LA Weekly, New York Post, Huffington Post, Washington Post and BBC. She can also be seen regularly on The Young Turks, The Stephanie Miller Show on SiriusXM and Mo'Kelly Show on IHeartRadio. Mona has also headlined in Dubai, Portugal as well as London. In addition to being seen all around Los Angeles at major comedy clubs as The Comedy Store, Flappers Comedy Club, The Laugh Factory, Ice House Pasadena, Hollywood Improv and many more, she hosted the Hollywood Improv for Comedy Juice night with Dane Cook. She became the first Pakistani female Comedian to be selected for the Laugh's Factory Funniest Person in the World Competition and made history by becoming the first Pakistani female Comedian to headline Hollywood Improv.Mona Shaikh got her start in comedy as a complete accident. Having grown up in Pakistan watching Bollywood movies, at 8 years old when Mona laid her eyes on her favorite Bollywood actress she knew what she wanted to do, she wanted to be a performer.
In her journey as a comedian, she's combined a South Asian sensibility with Americanized values cherishing the First Amendment—the right to bear big mouths. And her fresh, fearless, free speech has raised eyebrows and landed her features in LA Weekly, Publication, and Publication Here. With her offbeat sense of humor Shaikh is a tightrope walker striving to maintain equilibrium while dealing with conflicting forces.Today Mona resides in Los Angeles, Calif. She got her own show and again made history at The World Famous Comedy Store in Los Angeles called Minority Reportz with a launch of sold-out shows around the country. pursing her career as a comedian and actor while developing her upcoming One-Hour Special, Two TV Shows and a RadioShow for IHeartradio. You can catch her as Reina Rafter on the upcoming Apple TV Show, Untitled Puppet Show.Be on the look out for Mona Shaikh coming to a stage, radio and television near you.
PAST MINORITY REPORTZ HEADLINERS
Photo

Gallery
Minority Reportz
Amazing nights of stand-up comedy from our new wave of comics that are here to remind us how great America is with our diverse viewpoints and the right to speak freely. Watch us have the times of our lives doing what we love, cracking jokes and making people laugh till they drop.